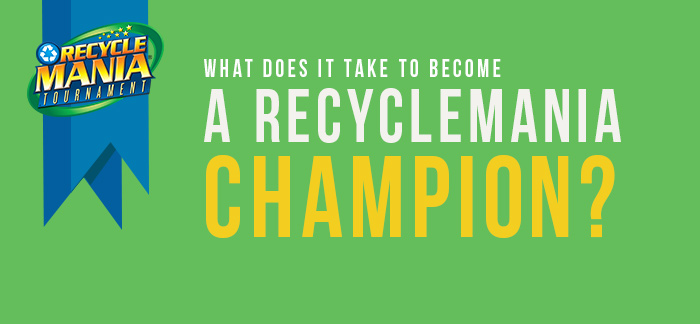 Every year, hundreds of colleges and universities across North America compete in the RecycleMania tournament where they are ranked based on per capita recycling, recycling as a percentage of total waste, and least amount of combined trash and recycling generated. Working with RecycleMania, we analyzed the 2015/2016 participant school profile surveys to identify common characteristics among top performing schools. To facilitate our research, we defined "top performing schools" as colleges and universities that ranked in the top ten for at least one category in three consecutive years: 2013, 2014, and 2015. Our analysis compared survey responses from top performing schools to responses from all participants to draw conclusions about what top-ranked schools do differently.
We discovered three characteristics shared among top performing schools:
Dedicated Recycling Staff Person
Our research revealed that 50% of top performing schools had a dedicated recycling staff person on campus while less than one-third of all participants stated that they had a dedicated recycling staff person. Logically, an institution with dedicated recycling staff will almost always have an advantage over schools relying solely on volunteer recycling teams.
In 2014 and 2015, Antioch University Seattle achieved 93% and 96% recycling rates, respectively, securing the RecycleMania Grand Champion title two years in a row. The two-time Grand Champion attributed part of this success to the dedicated staff that regularly sorts recyclables out of the waste stream.1 2
This isn't new information for RecycleMania President & Co-founder, Stacey Wheeler. In an interview with Michelle Volkmann of the Sustainable City Network, she stated that "schools that have a dedicated staff actively promoting RecycleMania tend to have the better results."3
Formal Zero Waste Plan on Campus
Our research revealed that top performing schools were twice as likely to have a formal zero waste plan on campus than their counterparts. This suggests that universities and colleges with formal zero waste plans are likely to enjoy a significant advantage over the competition. A zero waste plan shows that an institution is publicly committed to reducing waste, recovering resources, and protecting the environment. It also serves as a rallying point for faculty, staff, and students that want to contribute to waste reduction on campus.
The University of Missouri-Kansas City, 2013 Grand Champion, understands the importance of establishing a formal waste reduction plan on campus. Formal zero waste plans unite faculty, staff, and students to work together to achieve a common goal. The university's Sustainability Coordinator, Kaye Johnston, attributes their 2013 success to campus-wide participation in RecycleMania and the University's public commitment to achieving zero waste by 2015. Johnston said that recycling has become a part of the campus culture since they set their zero-waste goal, but that they always see a spike in recycling during the RecycleMania tournament.4
A public commitment to zero waste is a good first step but it also needs a consistent and effective marketing campaign to raise awareness. RecycleMania administrators recognized the importance of awareness campaigns when they piloted the "Tell Your Story" Case Study Competition in 2014. RecycleMania partnered with the National Wildlife Federation's Campus Ecology program to recognize schools for innovative and impactful recycling and zero waste awareness campaigns. In 2015, this graduated to a full-fledged competition with a judged award going to the school that demonstrates the most effective awareness campaign, based on creativity and impact.
---
Recycling Program Described as Comprehensive
Returning to the profile survey data, we found that 37% of all participants described their campus recycling programs as comprehensive. Compare this to 64% of top performing schools describing their campus recycling program as comprehensive, we can see yet another competitive advantage. Institutions that have evolved their campus recycling programs over many years enjoy the advantage of experience. Most campus recycling programs start small and build up over the years as experience is gained through successful initiatives and lessons learned from failed ones. For institutions that want to gain experience, RecycleMania offers the "Benchmark Division". It gives newcomers a way to informally compare themselves against other schools in each of the eight award categories.
About RecycleMania
RecycleMania is a friendly competition and benchmarking tool for college and university recycling programs to promote waste reduction activities to their campus communities. Over an 8-week period each spring, colleges across the United States and Canada report the amount of recycling and trash collected each week and are in turn ranked in various categories based on who recycles the most on a per capita basis, as well as which schools have the best recycling rate as a percentage of total waste and which schools generate the least amount of combined trash and recycling.
To learn more about RecycleMania, visit www.recyclemaniacs.org
References: