Re-TRAC was conceptualized to fill a need for easier management and measurement of material management data. Thought of as an extension of your team, local and national government agencies, as well as other organizations trust and use Re-TRAC to efficiently collect, manage, and analyze their recycling and solid waste data. Re-TRAC is the software that helps streamline your information management activities to save you time and money.
We strive to continue to be your trusted material management data software provider. As we expand our portfolio of services to provide innovative, industry-specific tools to help cities, counties, states, and other local government agencies manage their waste and recycling data, a refresh of the brand became necessary. As the software evolved, so has our brand, and to reflect that we've made a few changes to our look to communicate the connection and distinction between these two unique services, housed within the strong, reliable platform simply being called "Re-TRAC". We're still the same brand you know, just with a new logo, new service offering, and a splash of colour!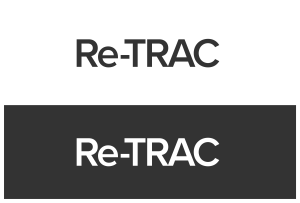 Aiming to maintain a feeling of familiarity, the new primary logo retains many of the characteristics of the Re-TRAC Connect™ logo. The Re-TRAC brand holds significant value with regard to brand recognition and equity. Therefore, to adequately support the brand's current identity and voice, we created a modern, clean logo that could stand the test of time. 
This new logo will be used within the platform, on the website, and in many of the other marketing collateral moving forward.
We launched our refreshed website, consistent with our new brand direction on November 4, 2022. You will see familiar messaging and colour schemes as they relate to Re-TRAC Connect, however, new improvements and additions have been made. 
What's different?
A webpage introducing our two (2) services. 

Dedicated web pages for each service to explore them further.

New colour combinations for the Re-TRAC brand and Re-TRAC Sightline™.

Up-to-date content re-introducing Re-TRAC Connect and announcing Re-TRAC Sightline.
The updated Re-TRAC platform

With the release of Re-TRAC Sightline in Re-TRAC, you'll see some new features that we've added to ensure you can access our new service.
Once logged into Re-TRAC, our users will be greeted with a split screen showing where to go to access each service. We encourage our Re-TRAC Connect users to explore Re-TRAC Sightline, and view the benefits and all the data categories the service has to offer. Click on a data category and discover the different reports that can provide instant materials management data. The menu will help you navigate the different services you're subscribed to and purchasing can be conveniently done right in the software. You can also choose to minimize the Re-TRAC Sightline callout at anytime from the home screen.
We're still guided by the same core principles that made us the brand to trust. We remain the software that transforms the way you manage and measure your waste and recycling programs. Instead of just doing that, NOW we can provide you instant access to an extensive library of pre-assembled materials management data for your jurisdiction. Learn all about our newest service, Re-TRAC Sightline here.  
We will continue to provide communication on updates made as we roll out this new service and complete our brand refresh. Until then, check out our improved website (www.re-trac.com) and let us know what you think!