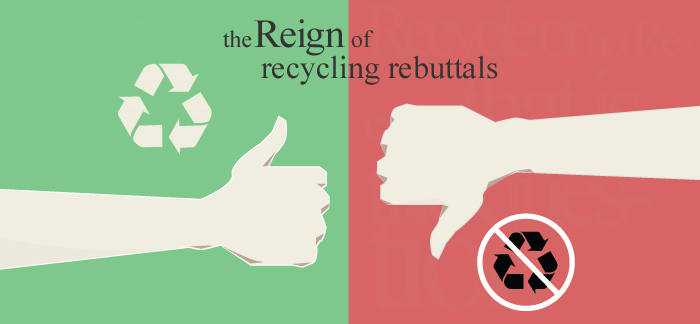 A month ago, an opinion article questioning the merits of recycling was published in the New York Times.  The response from the recycling community has been swift and decisive. In addition to a general sense of outrage that has inspired many passionate conversations, a lot of organizations have written articulate and effective rebuttals that lay waste to the inaccuracies and flawed logic on which the author bases his claims.
While it's unfortunate that we have to defend the industry from such spurious attacks, it's been great to see the strength of the community's response. And perhaps the discussion that has been generated will help more people learn the truth about recycling and gain a new appreciation for the importance of diverting waste from the landfill.
We have assembled a collection of some our favorite rebuttals so browse the list below, and feel free to share this post! If we've missed one that you really like, let us know and we'll add it.
---
Fact Check: Reign of Recycling
Who wrote it?
Closed Loop Fund Team
Who are they?
A social impact fund investing $100M to increase the recycling of products and packaging.
---
Debunking the New York Times: Recycling Isn't Garbage
Who wrote it?
Corey Troiani, DFW Program Coordinator, Texas Campaign for the Environment
Who are they?
A non-profit organization empowering Texans to fight pollution through sustained grassroots organizing campaigns that shift corporate and governmental policy.
---
The Real Benefits of Recycling and Who They Are For
Who wrote it?
The entire Eureka Recycling team
Who are they?
A Minneapolis based non-profit zero-waste organization focusing on reuse, recycling, composting, waste reduction, and producer responsibility.
---
Is recycling as awful as the New York Times claims? Not remotely.
Who wrote it?
Ben Adler, Grist
Who are they?
A non-profit organization that is a source for environmental news and commentary covering climate, energy, food, cities, politics, business, and green living.
---
7 Reasons Why Recycling Is Not a Waste: A Response to 'The Reign of Recycling'
Who wrote it?
Tom Szaky, CEO and Founder, TerraCycle
Who are they?
An international upcycling and recycling company that collects difficult-to-recycle packaging and products and repurposes the material into affordable, innovative products.
---
An Open Letter: National Recycling Coalition's Response to Media Attacks on Recycling
Who wrote it?
Mark Lichtenstein, President and CEO, National Recycling Coalition
Who are they?
A national non-profit organization that is focused on the promotion and enhancement of recycling in the United States. 23-affiliated recycling organizations strong, they have a network of more than 6,000 members that extends across waste reduction, reuse, recycling, and composting.
---
Op Ed: Waste Not, Want Not
Who wrote it?
Robert J. Bylone, Jr., Executive Director, Pennsylvania Recycling Markets Center
Who are they?
A non-profit corporation with a mission to reduce or eliminate barriers to expand use of Pennsylvania's recyclables.