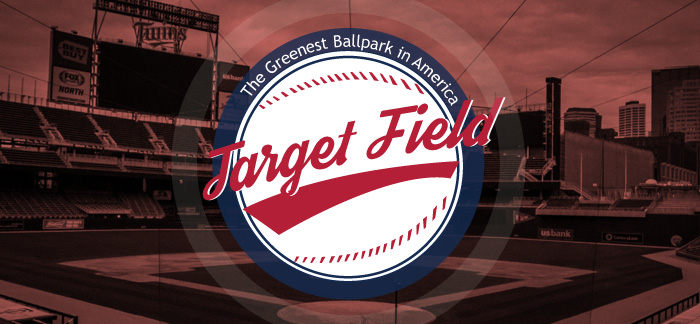 While visiting the Twin Cities to exhibit at the 2015 AASHE Conference, Chris Ronson and I met with Minnesota Twins Stadium Operations Manager, Jase Miller. He graciously offered to give us a tour of the 39,021 seat, LEED-certified baseball stadium located in Minneapolis' bustling Warehouse district.
If you build it, they will come
Known as the greenest ballpark in America, Target Field was designed with sustainability in mind. The stadium is built on formerly contaminated soil (which was replaced before construction began) and contains a plethora of sustainable construction and operations features:
Locally-sourced construction materials were used to limit the energy costs related to shipping.
Over 30% of all installed materials at Target Field are made of recycled content.
Over 70% of the waste that was generated during construction was recycled or reused.
High efficiency lighting (including field and indoor lighting), low-flow urinals, and dual-flush toilets have been installed to save energy and water.
Access to convenient public transportation options including rail, bicycle, and bus routes.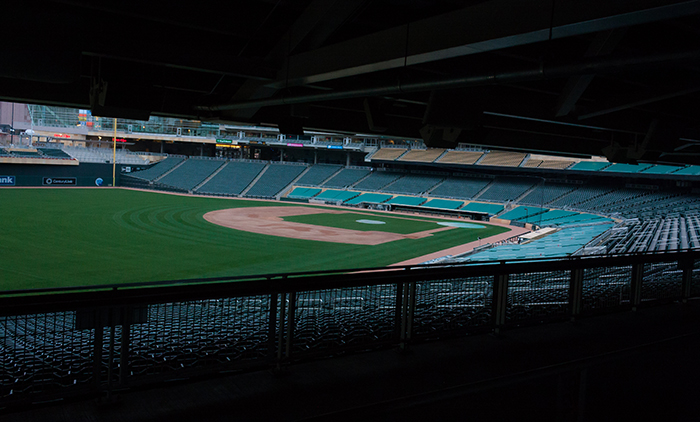 Responsible Materials Management
As we walked along the main walkway that surrounds the bleachers, Jase pointed out the recycling and organics bins installed beside each stanchion. The receptacles, adorned with colorful signage, easily convey the materials that belong in each bin. We also learned that the Minnesota Twins recently partnered with a Colorado company, Eco-Products, to replace the majority of its disposal food containers with compostable products.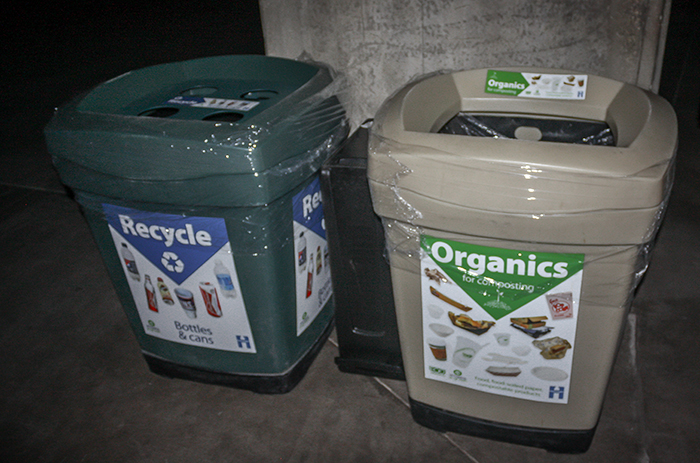 Where does it all go?
The next leg of our journey took us into the basement of the stadium to see where the material-sorting magic happens. We were ushered into the sorting room where the Twins' sustainability teams comb through the contents of the stadium's waste, recycling, and compost bins to ensure that the waste streams remain uncontaminated. We were impressed by how clean and organized the room was. Just (a bit) outside of the room, we found Target Fields' compactors which, again, were kept in great condition.
We were particularly interested in the sorting room, as The Twins have been using Tracker, Re-TRAC's waste diversion tracking tool, since June of 2015. Tracker provides Jase with valuable insights that include the stadium's overall diversion rate, monthly trends in recycling and composting activity, and an environmental equivalency report that calculates the number of passenger vehicles taken off the road for one year based on diversion activities at Target Field. Since 2011, the Minnesota Twins have diverted over 5,000 tons of waste from landfills and donated thousands of meals to local charities.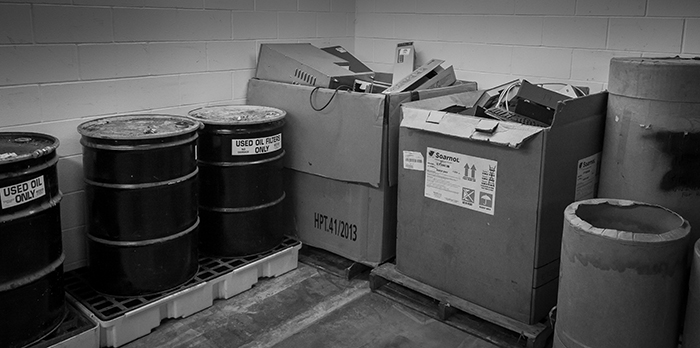 When it rains, it pours…savings!
Our next stop was to see the Pentair rainwater recycle system which was also in the facility's basement. When it rains over the field, the rainwater drains into a 200,000-gallon tank that is filtered and cleaned to drinking water quality. The water is then used for the field watering system and pumped into a pressure washer for cleaning the lower-level stadium seats. This rainwater recycle system cuts the city water use by approximately 2 million gallons annually. The system has already captured, filtered, and reused over 4 million gallons of rainwater – that equates to about 6.5 Olympic-sized swimming pools!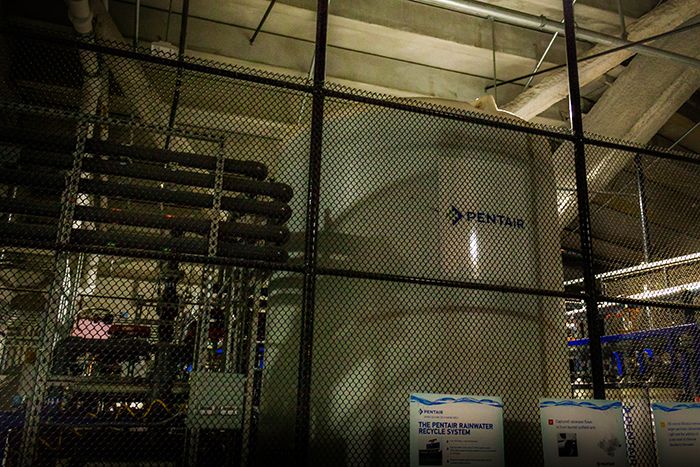 Award-winning leadership
As we passed down the dark corridors of the silent stadium, we stopped to admire one of the many walls that celebrate the ballpark's achievements. Positioned side-by-side, two of the awards quickly caught our attention.
In 2010, the U.S. Green Building Council awarded Target Field its first silver-level LEED certification for its sustainable design and construction – highest score ever achieved by an outdoor baseball facility in the United States. One year later the ballpark secured its second silver-level LEED certification for the operation and maintenance of the facility thus becoming the first professional sports facility to receive silver-level certification for both construction and operations.
Target Field really does LEED by example.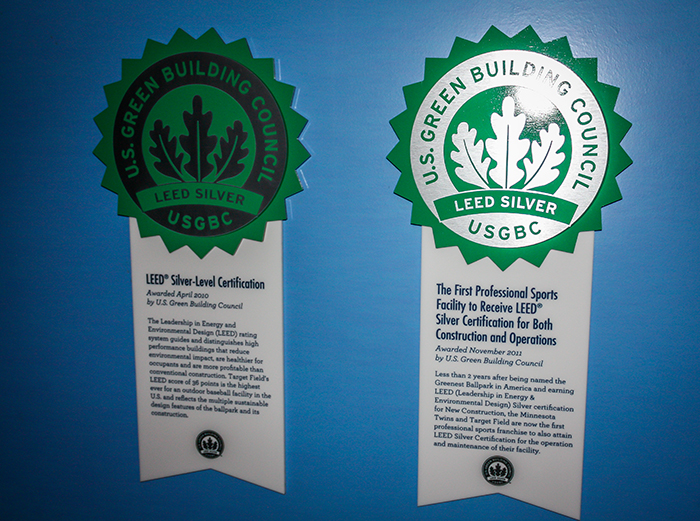 The Green Sports Alliance
The Minnesota Twins are members of the Green Sports Alliance, an organization that leverages the cultural and market influence of sports to promote healthy, sustainable communities. The organization achieves this by inspiring sports leagues, teams, venues, their partners and millions of fans to embrace renewable energy, healthy food, recycling, water efficiency, species preservation, safer chemicals and other environmentally preferable practices. Alliance members represent more than 300 sports teams and venues from 20 different sports leagues and 14 countries. Let's be honest, when it comes to sports, we all want responsible teams and leagues that make sustainability a priority.
Thank you to Jase and the Minnesota Twins for your leadership towards making professional sports a sustainable business.
Click here to learn more about Tracker, the waste diversion tracking tool.