Kevin Stirtz (author of "More Loyal Customers") said "Providing great customer service is the most natural activity in the world. It's fun to help others because it feels good." We definitely agree! This month, we have introduced new support options available to all of our Re-TRAC Connect programs.
These options include a new Program-Specific Support Request form as well as a Support Portal, ensuring that Re-TRAC Connect users receive timely and effective answers to their program-related questions.
What does this mean for Program Managers?
This means that you will receive email notifications from Re-TRAC Connect when a Member submits a program-specific support request.
Our Technical Support team is still available to assist your Members, but the new support options will enable your Members to get the program-specific help they need faster, and more efficiently.
How will contacting Support change for your Members?
The first change is on each member's "Workspace" page, the "Contact Program Manager" link has been replaced with a "Program Support Request" link. Support requests sent via this new link will be emailed directly to the Program Manager.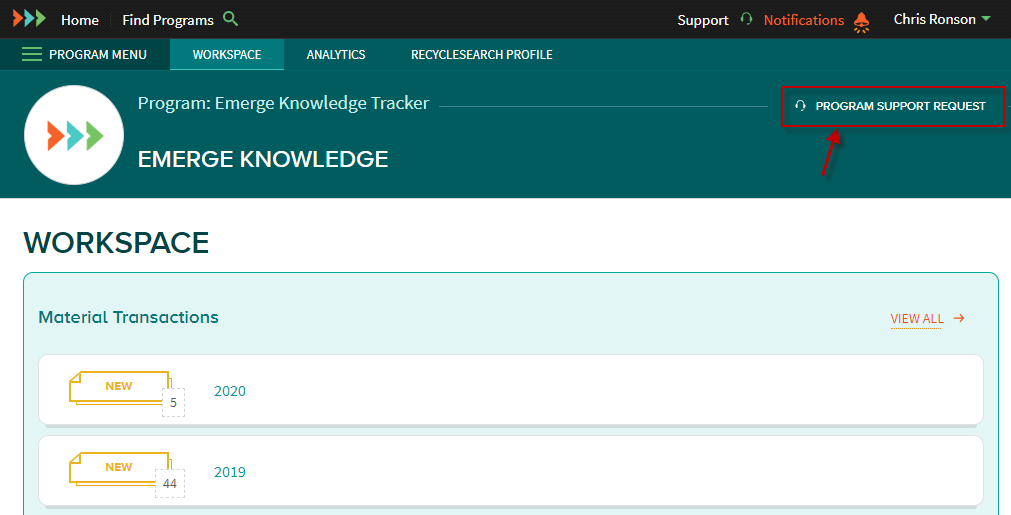 The second change is the new Support Portal that can be accessed from any page in Re-TRAC Connect. Simply click the "Support" link in the top navigation bar to access the Support Portal.
Using the Support Portal, users can access "Program-Specific Support" for any program or directory they are participating in, as well as the standard Re-TRAC Connect Technical Support.
When a Member clicks a Program-Specific Support Request block, they will be presented with a form to enter their support request.
Once the form is submitted, Program Managers will receive an email with the support request details and then will able to respond directly to the Member.
If the Support Request is not related to your program, then accessing Technical Support from the new Support Portal is also an option.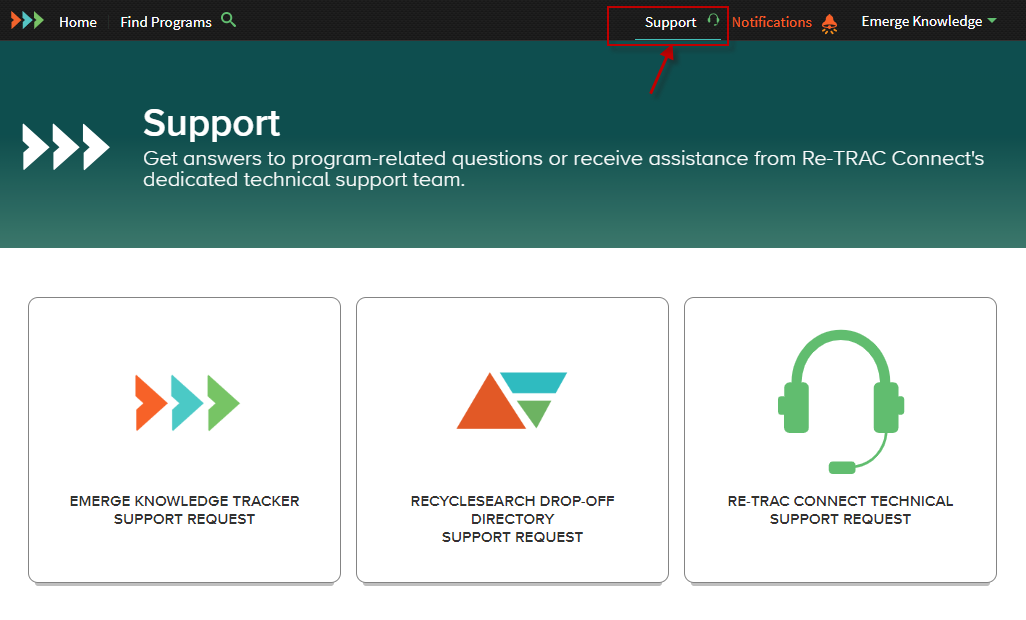 What if I'm unable to resolve a Program-Specific Support Request?
If you receive a program-specific support request that you're unable to resolve, simply forward it to our Technical Support Team at support@re-trac.com and they will be happy to assist.