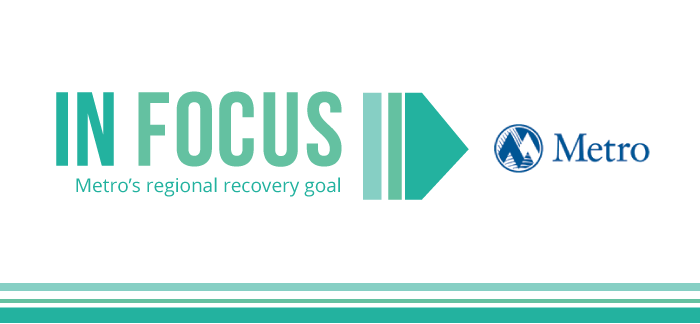 Metro is the regional government that serves 1.5 million people across three counties and 25 cities in the Portland, Oregon metropolitan area. It plans and oversees the region's solid waste system and works with local communities and industry partners to implement waste reduction programs.
These programs have been very successful. Since 2004, the region's total waste generated per person dropped 23 percent. This success reflects program, policy & cultural changes, as well as factors outside Metro's influence such as overall economic conditions. The region also has decades of success in its residential, commercial, and construction sector recycling programs.
For over thirty years, the waste reduction work has been guided by a series of ten-year plans that establish policy and program direction for Metro and the cities and counties. This forward-looking and integrated approach has helped to ensure that the region continues to progress in achieving environmental and human health benefits from materials management programs and that it does so in a coordinated fashion across all of the jurisdictional lines.
Each version of the plan, formally known as the Regional Solid Waste Management Plan (RSWMP) also ensures that the region meets state requirements for waste reduction programs and makes progress toward defined recovery and waste generation goals.



---
The Goal
Recovery Goal: The State of Oregon has established a voluntary recovery goal for the Metro region of 64% by 2025. The region's rate for the past three years for which there are data (2012-2014) has fluctuated between 54% and 57%.
Other Goals: Metro and the region are also excited about new goals on the horizon. The State and Metro are both seeking to implement new metrics that better tell the story about the impact that materials management programs and policies are having on waste reduction. These may include recovery goals for specific materials (such as food, plastic, and carpet) which have high greenhouse gas and energy benefits across the product lifecycle, as well as system metrics related to resource depletion and diesel particulate emissions.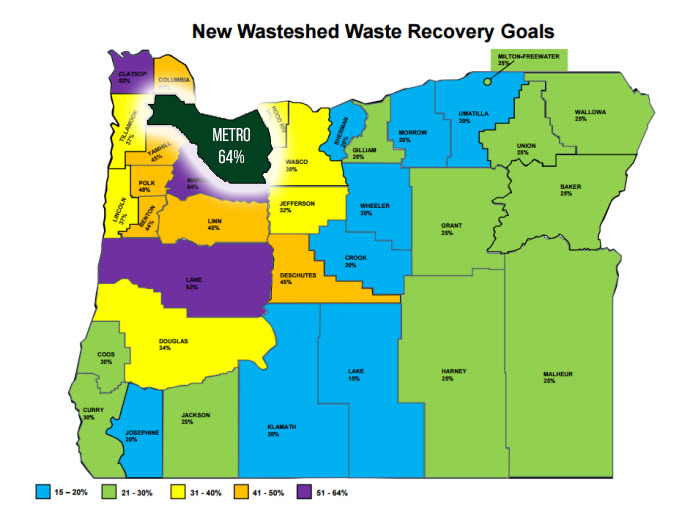 ---
The Plan
2008-2018 Regional Solid Waste Management Plan: The Plan serves as a framework for the coordination of waste reduction programs in the Portland metropolitan area. It guides ongoing work to advance sustainable practices in the solid waste system and reduce the amount and toxicity of waste generated and disposed.
Implementation of the goals and objectives outlined in the Plan will enable the region to continue progress in three key areas:

Waste Reduction: Reducing the amount and toxicity of waste generated and disposed and attaining the region's 64 percent waste recovery goal.
Sustainable Operations: Advancing sustainable practices throughout the region's solid waste operations.
Solid Waste Disposal System: Ensuring the disposal system continues to serve the best interests of the region.
Work on developing a new ten-year plan will begin in 2017.