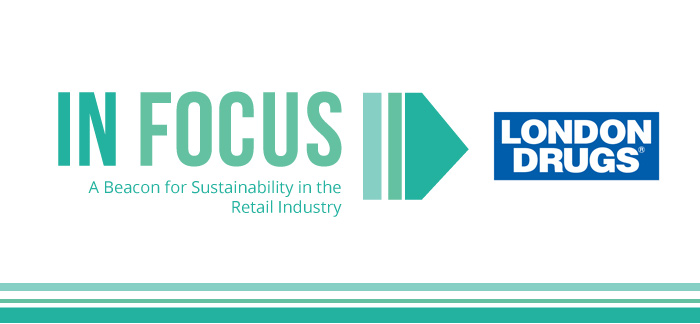 London Drugs is a privately-owned chain of retail stores in Western Canada. Founded in 1945 as a small drugstore in the heart of Vancouver, British Columbia, London Drugs now serves over 45 million customers each year. It continues to operate as a pharmacy but also offers cosmetics, electronics, housewares, grocery items, a photo lab, and a full-service computer department. While the retail chain has been recycling since the 80's, its sustainability journey really took off in 2008 with the launch of its award-winning 'What's the green deal?' program.
What's the Green Deal?
The London Drugs philosophy is to support the communities it serves. The 'What's the Green Deal?' program is the company's commitment to continuously search for better, more sustainable ways to do business, and to help its customers find answers to their questions. The company uses its blog to tackle tough issues such as the retail bag debate and food waste, and also uses it to showcase the green products it offers.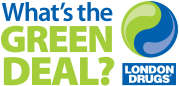 The London Drugs four-pillar strategy:
1. Waste Reduction:
Over 93% of all store waste is diverted from landfills by it employees.
2. Energy & Operations:
Strives for better warehouse design & lighting, uses biodiesel in its trucks, and more.
3. Upstream Buying:
Its Responsible Purchasing Policy helps vendors understand exactly what London Drugs expects concerning vendor supply chain standards.
4. Education & Communication:
Outreach events, sponsorships, Twitter, and the greendeal.ca website all help to share greener living tips with the entire community.
Green Deal Products
The company is always looking for new ways to buy better products. The 'What's the Green Deal' product signage point out products that feature real environmental benefits which may include: third-party certification; reduced packaging; reduced energy use; recyclable packaging or content; products that are degradable or compostable; organic production; recycled content in products or packaging; reduced synthetic chemicals and toxins; locally produced; reduced carbon footprint; logical environmental advantages (such as rechargeable batteries); self-declared environmental claims; and corporate responsibility. The company has even introduced its first closed-loop product – Cascades recycled paper products are made from cardboard and paper partially sourced from London Drugs' own waste recycling streams.



Recycling Programs
While not equipped to handle commercial-scale loads, London Drugs makes every effort to provide recycling services as a convenience for its customers and community. In January of 2015, London Drugs started using Tracker to measure its progress towards reaching the company's 95% diversion target. At the end of 2015, the company achieved an impressive 93% diversion rate across all of its stores. Executives at London Drugs attribute this success to their wide range of recycling initiatives, their enthusiastic employees, and environmentally-conscious customers.
'Bring back the pack'
London Drugs is the only major retailer that will take back all packaging from anything purchased in its stores. Whether it's a tube of sunscreen or a flat-screen TV, customers can bring packaging to Customer Service and the staff will take care of the rest. Recyclables are forwarded to a central location then sent to local facilities for responsible processing. It's easier on landfills, convenient for customers, and better for the environment.
Battery Recycling
Batteries are collected at London Drugs through a program operated by Call2Recycle™ – a free battery and cell phone collection program funded by product manufacturers. Both rechargeable and single-use batteries can be dropped off at London Drugs stores. Lithium Ion batteries (one of the more common rechargeable types) are recovered using safe remote-control processing, and the recovered lithium converted to lithium carbonate for reuse. Metals recovered from other battery types include nickel, iron, cadmium, lead, and cobalt. Plastic casings and other scrap are converted to energy.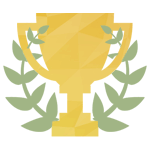 Winner of the 2015 RCBC Private Sector Recognition Award for their valuable contribution toward the preservation and enhancement of British Columbia's environment.
Cell Phone Recycling
All over North America, millions of old cell phones sit in drawers clinging to the chance that they may get used again. London Drugs encourages its customers to responsibly eliminate the clutter by bringing old cell phones to its stores for recycling. When possible, old cell phones are refurbished and/or resold. Interestingly, when a recovered cell phone is resold, a portion of the proceeds is donated to select charities. The remainder is recycled, so none of the broken-down material makes its way into landfills.
Electronics Recycling
Electronic waste is a huge landfill problem, but it doesn't need to be! Old computers, monitors, printers, TVs, VCRs, disc players, speakers, recordable media, and even wiring can be responsibly recycled at London Drugs stores. All electronic products are recycled back to their basic components, and London Drugs works diligently to ensure that the electronic recyclables are not shipped to sub-standard offshore facilities. The retailer is one of the only computer recycling options where valuable personal data is protected. All recyclable electronics are tracked and monitored to ensure all drives are completely destroyed before any materials are shipped. This ensures that personal data won't fall into the wrong hands and computers won't be sent to the landfill.
Compact Fluorescent and Fluorescent Tube Recycling
Compact Fluorescent Light (CFL) Bulbs and Fluorescent Light (FL) Tubes up to 4-foot lengths,can be taken to London Drugs for safe, responsible recycling. Bulbs are transported to a recycling facility where components are safely separated and the residuals are sent for further recycling.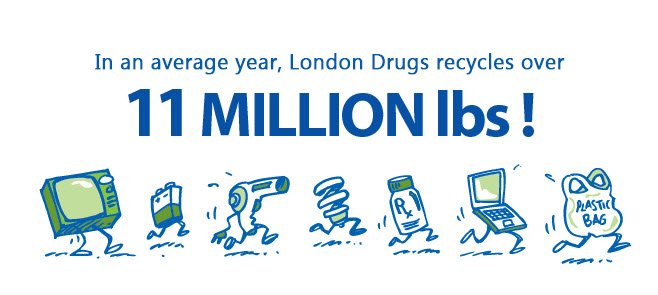 Medications Disposal
Many prescription medications, over-the-counter products, and health supplements remain in medicine cabinets and kitchen drawers long after their expiry date, while others are simply unused. Medications in the garbage can pose a hazard to pets and wildlife, and beyond that, can infiltrate groundwater, eventually entering drinking water and the food chain. Drugs flushed down the toilet enter the wastewater treatment system, which is not designed to filter out the complex chemicals that make up today's medicines. London Drugs invites the community to drop off unwanted and unused medications to its stores for safe disposal.
Small Appliance Recycling
Old or broken small appliances with plug-in cords such as hair dryers, toasters, and blenders can also be taken to London Drugs for recycling. London drugs works with stewardship agency's across all Canadian provinces.
Pilot Program with Multi-material BC (MMBC)
As of August 1, 2016, London Drugs and MMBC have partnered to launch a one-year pilot program in 11 stores in Vancouver, BC. These stores will accept plastic bags and overwrap, white coloured plastic foam packaging, and Styrofoam™ regardless of where the material came from. Recovered plastic bags and overwrap are recycled into new grocery bags, plastic pellets, containers, crates, pipes, decking, and park benches. The goal is to make recycling easy for Vancouver residents. At the end of the one-year pilot, the program will be evaluated to see if it should be introduced to other parts of the province in the future.
A Beacon for Sustainability in the Retail Industry
London Drugs understands that sustainability is a journey and not a destination, so it continuously seeks new ways to reduce waste and increase recycling. As Corporate Social Responsibility becomes increasingly important to consumers, companies like London Drugs will serve as a beacon to other retailers seeking to step up their game in the sustainability department.