By: Tonya Randell, More Recycling
As recycling professionals who work in recycling education, we know how hard municipalities work to educate their residents about how to recycle more and recycle right, especially when it comes to plastics. Over the years, we've seen more plastics entering the recycling stream as packaging evolves and more products come in plastics instead of other materials. And because there are so many different types of plastics—and which ones can be recycled varies from community to community—there's potential for plastics to end up in the wrong bin.
We've seen that better communication with residents can lead to more and better recycling. Yet, often education materials are only updated when absolutely necessary, like when a recycling program changes what items it accepts, since updating education materials can be resource-intensive.
So, is there a program to help communities improve recycling education for plastics that is easy, economical, and effective? Three communities used a new resource—the Plastics Recycling Terms and Tools—and found that the answer is: yes!
---
Communities share what works
From 2014 – 2016, three communities across the U.S. worked to tackle their higher-than-desired contamination rates or other problems. Residential surveys and feedback revealed that residents were confused about what could be recycled in their communities. This confusion was particularly true of plastics. All three communities used the resin identification code (RIC) numbers in their plastics recycling communications, but residents could not recall which plastics RIC numbers were accepted for recycling or remember there were numbers on the plastic items at all.
Following the surveys, the communities simplified the language they use when communicating about plastics recycling.
The City of Greensboro, NC, removed the language "All Plastics #1-7" and "Rigid Plastics" and grouped recyclables in four simple categories with standard images and descriptive, straightforward plastics terminology.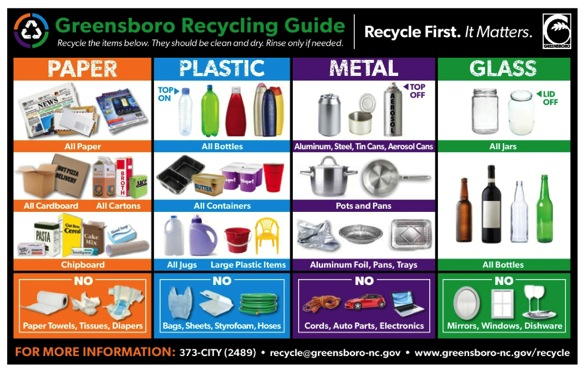 "Recycling needs to be simple, clear, and engaging. We want our information to be understandable and descriptive for anyone."Tori Carle, Recycling Education Specialist, City of Greensboro, NC
Outagamie County, WI, also moved away from RIC numbers in favor of descriptive terms in its educational materials. The county found that emphasizing what is recyclable and deemphasizing what is not, also helped improve residents' recycling.
Columbia, SC realized it had to update its recycling education when the city updated its recycling program. The program switched from bins to carts and expanded what was collected for recycling. The changes left residents confused and contamination higher than the county desired. Replacing RIC numbers with descriptive terms and imagery in the city's education materials clarified for residents what plastics could be recycled in the updated program.
"Simplicity is key to recycling. We were using numbers but when we switched to roll carts we saw an increase in contamination… Pictures paired with terms are the most helpful."Samantha Yager, Solid Waste Assistant Superintendent, Columbia, SC
In all three communities, residents indicated that the new, clear messages and pictures helped them best understand what plastic items were recycled. Contamination at local MRFs also dropped: in Greensboro, it dropped 3% and is expected to continue to decline.
Read more on the community testimonials
---
Common Terms: The Plastics Recycling Terms and Tools
Greensboro, Outagamie, and Columbia all used the Plastics Recycling Terms and Tools for the descriptive plastic terminology in their new education materials. The Terms and Tools help communities more effectively educate their residents about plastics recycling in their communities. Clearer education can help get more of the plastics accepted for recycling into the recycling bin and out of the trash can. Clearer education can also help reduce contamination at the MRF, which improves the overall quality of the material processed.
The Plastics Recycling Terms and Tools include:
Clear, descriptive terminology to better describe plastics categories for residential education
An online gallery with hundreds of royalty-free images for recyclable plastics. These standard images match the terms and are available for download in various file types for ease of use.
A custom flyer tool to easily build your own flyer using the descriptive terms and standard images. Download your flyer for free and use it in your education and outreach efforts.
Plastics commodity terms that support the 3,700+ businesses that collect, process, buy and sell plastic material. As a recycling coordinator, how can you best use these plastics commodity terms? Ask your MRF to use these terms when they provide you with diversion and recycling data so everyone is on the same page about what plastics are being recycled.
---
Let's make it easier to recycle more plastics
The Plastics Recycling Terms and Tools were created with recycling professionals in mind: they help recycling professionals more effectively communicate about plastics recycling. And better communication can lead to better recycling, supporting the entire recycling ecosystem for plastics. To learn more about how Greensboro, Outagamie, and Columbia used the Plastics Recycling Terms and Tools to improve plastics recycling in their communities, check out their testimonials.

---