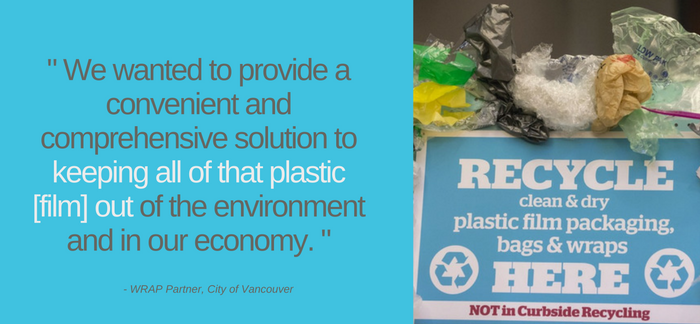 Guest author: Shari Jackson, Director, ACC's Flexible Film Recycling Group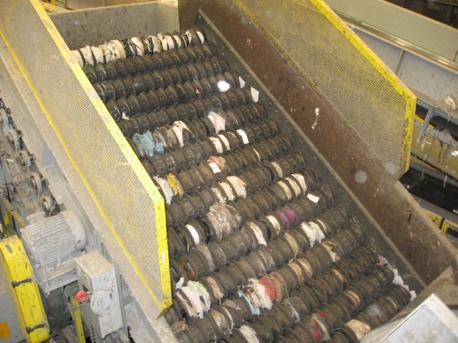 As recycling professionals, it's our job to make sure we help our communities recycle as much as possible. One area of recycling that's growing rapidly (it's increased 79% since 2005!) is the recycling of polyethylene (PE) plastic bags, wraps and film packaging – collectively referred to as plastic film. However, not everyone knows how to recycle plastic film. When recycled curbside, plastic film ends up at a material recovery facility (MRF) where it can clog the sorting machinery, oftentimes requiring facility shut-downs to remove the material. Communities need fully operational MRFs, and damaged machinery or facility shut-downs can negatively affect a MRF's bottom line.
To help keep MRFs running smoothly – and to prevent plastic film from being landfilled instead of recycled – more state and local municipalities are looking for a cohesive, comprehensive plan to help their communities keep plastic film out of their curbside recycling programs and MRFs. The good news is there is a comprehensive, low-cost program that helps communities accomplish these goals.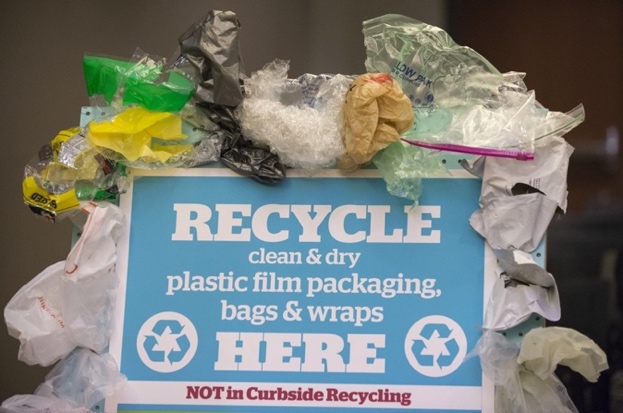 The Wrap Recycling Action Program (WRAP) aims to boost proper recovery of PE film through campaigns that educate community residents how and where to recycle this material. Currently there are more than 18,000 locations across the U.S. that collect this material for recycling, including many grocery and retail stores. WRAP helps municipal and state governments leverage this existing recycling network and identify local partners such as retailers to expand access for film recycling and increase overall recovery. Throughout a campaign, WRAP provides communities with logistical and technical assistance for pilot launches and commercial recovery. WRAP also provides free educational and outreach resources and tools.
By the numbers
WRAP's partnership with Vancouver, WA, led to a 75 percent reduction in plastic bag contamination in recycling carts of residents who received information on cart tags.
In Milwaukee, WI, and Vancouver, WA, 80 percent of polled consumers said that the film and bag recycling program gives them a positive impression of the stores collecting these materials.
In Vancouver, WA, a WRAP retail pilot saw a 126 percent increase in plastic bags and film collected during the six-week campaign over the baseline period.
Pillars of the Wrap Recycling Action Program (WRAP)
Residential Recovery
Educate consumers on what is recyclable and where to recycle it.
Reinforce key messages:

Keep plastic film out of your curbside recycling bin.
Take your plastic film to a drop-off location to recycle it.
Keep your plastic film clean and dry to ensure proper recycling.

Utilize WRAP's communication tools for education and outreach, and reference best practices obtained in the program's e-newsletters and webinars for Champions and Partners.
Commercial Collection
Get your feet wet with a residential pilot first, then expand to business-to-business collection in your community.
Leverage free WRAP tools including the Pilot/Work Plan, Film Recycler Directory, Disposal Cost Calculator and more.
Stay vigorous in your quest to identify untapped commercial opportunities: scrap dealers or distributors who backhaul that could play an important role in helping your film recycling program succeed.
Learn more about the WRAP Initiative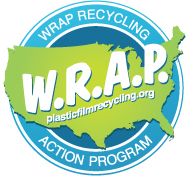 WRAP, an initiative of the American Chemistry Council's Flexible Film Recycling Group, works with key partners such as the U.S. EPA, major retail stores, schools, universities, businesses, haulers, non-profits, and other agencies to double the amount of plastic film recycled to two billion pounds by 2020.