Consistent and accurate measurement should be at the heart of every materials management system. Measurement is critical to the effective management of resources, efforts, and results. It's also important that industry leaders and program managers speak the same language.
Register to attend the Measurement Matters Summit to learn new reporting strategies, network with industry leaders, and discuss metrics to improve waste & recycling programs. Leaders from across North America will meet at the Downtown Marriott Event Center in Chattanooga, TN to discuss the future of measurement in materials management systems.
If you're still on the fence, here are 9 reasons why you should attend this national event:
---
1. The Speakers
Don't miss your chance to see industry leaders and waste management professionals speak on a range of topics about measurement.
Day 1 will feature presentations about state data collection methods, improving waste and recycling programs using better metrics, and enhancing the quality of collected data.
Presentations on Day 2 will focus on identifying new metrics for success, harmonizing measurement systems, and sharing best practices for material management.
The last day will be reserved for developing an action plan and timetable.
---
2. Technical Tours
The Summit offers four technical tours on Monday, February 26. Entry fees include transportation from the Downtown Chattanooga Marriott Hotel and space is limited so reserve your spot today.
Lodge Manufacturing Furnace
Feb 26, 2018
8am - 12pm
$30 entry fee
Nestled alongside the Cumberland Plateau of the Appalachian Mountains is the town of South Pittsburg, Tennessee (population 3,300). It was here that Joseph Lodge and his wife settled and, in 1896 opened his first foundry. Iron foundries have been recycling long before "being green" was cool.
The guided tour will visit the house and foundry to see how the Lodge family created the company and how their famous products are made.
Chickamauga Lock and Dam
Feb 26, 2018
8am - 11am
$30 entry fee
Chickamauga Navigation Lock, seven miles upstream of Chattanooga, Tenn., at river mile 471, is owned by the Tennessee Valley Authority and operated by the U.S. Army Corps of Engineers. Upstream of Chickamauga Lock are 318 miles of navigable waterway used to transport materials to and from industries, TVA facilities, and the Department of Energy facilities at Oak Ridge.
Chickamauga Dam has four generating units with a net dependable capacity of 119 megawatts. It lies just north of Chattanooga, and is instrumental in preventing the flooding of the city.
Raccoon Mountain Hydroelectric Facility
Feb 26, 2018
1pm - 4pm
$30 entry fee
The Raccoon Mountain project is TVA's largest hydroelectric facility. Water is pumped to the reservoir on top of the mountain and then used to generate electricity when additional power is needed by the TVA system. The plant works like a large storage battery. During periods of low demand, water is pumped from Nickajack Reservoir at the base of the mountain to the reservoir built at the top. It takes 28 hours to fill the upper reservoir. When demand is high, water is released via a tunnel drilled through the center of the mountain to drive generators in the mountain's underground power plant.
Chattanooga HHW and Mulch Facility
Feb 26, 2018
1pm - 4pm
$30 entry fee
The Household Hazardous Waste Collection Facility allows City and Hamilton County residents to dispose of common hazardous materials generated within their residence. Trained staff members are on site and ready to unload all acceptable household hazardous materials. All of the items collected are properly managed to be reused, recycled, or disposed in compliance with all federal, state, and local laws.
The Wood Recycling Center recycles organic yard waste which is collected at the curbside by city collection crews, contractors, and homeowners. Wood waste from trees and trimmings as well as leaves may be disposed of at the wood recycle center at a standard rate for non-city residents and businesses.
---
3. Networking Reception
Attend the networking reception to connect with industry leaders, trade organizations, and professionals from across North America. The reception will be held at the Tennessee Aquarium after the Summit's sessions on Wednesday, February 28, 2018. Free city shuttle service is provided directly outside the hotel on an ongoing rotation (about every 10 minutes) daily until 11:00pm.
---
4. The Exhibit Hall
The exhibit hall is a great place to strike up a conversation with sponsors, exhibitors, and fellow attendees. Explore the hall to find products and services that can help you improve measurement and enhance your materials management systems.
---
5. SWANA's Continuing Education Units
Swing by the registration desk to pick up forms for SWANA's Continuing Education Units (CEUs). Earn CEUs by attending technical sessions at the Summit. It's a great way to update and expand your job knowledge while also earning CEUs.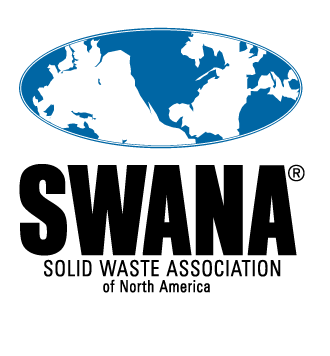 ---
6. The State Measurement Program
Learn everything you need to know about the State Measurement Program (SMP). At 9am on February 27th, Cheryl T. Coleman of the US EPA will provide an introduction to the SMP.
Following that session, Re-TRAC's own Chris Ronson will provide a demonstration of the SMP including reporting, upgrades, and options.
The afternoon will include a session presented by Matt Hittle of Ohio EPA and Seth McCormick of TDEC which demonstrates how states are using the SMP for state planning, benchmarking, and improving programs. The second half of this session, presented by Trina Matta of Sustainable Packaging Coalition, will highlight why the industry needs the data and how it's used.
---
7. The Municipal Measurement Program
Make sure to catch the Innovative Tools for Measuring Local Recycling Performance session on Wednesday, February 28th at 1pm. Rick Penner, president of Re-TRAC Connect, will deliver a presentation about a powerful new data management, program assessment, and public outreach service: the Municipal Measurement Program (MMP).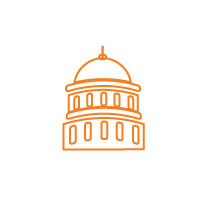 ---
8. The Measurement Movement
This event marks an important turning point in materials management in North America. Over the years, there has been a growing effort to share data, improve benchmarking, and communicate performance across multiple levels of government. The Summit will welcome national and state program managers to discuss material data capture, analysis, and how to use it to reform, improve, and change public policy.
It will encourage local government solid waste and public works managers to join in on the discussion and discover emerging technologies to improve programs. Trade organizations, recovered materials end-users, scrap buyers and brokers, and recycling business managers will have the opportunity to contribute to measurement conversations, build regional partnerships, and network with industry leaders.
---
9. The Summit LiveStream
Can't make it to the Measurement Matters Summit? Re-TRAC Connect is sponsoring the Measurement Matters Summit LiveStream which allows virtual attendees to experience the Summit from the comfort of their desks or boardrooms.
Access a LiveStream feed of all sessions and participate in discussions by asking questions and providing feedback. After the event, you will have access to recordings from both days as well as presentations from all sessions. While you won't be able to attend the social events, you will have the satisfaction of reducing your GHG emissions. Act quickly! Early bird pricing ends February 17, 2018.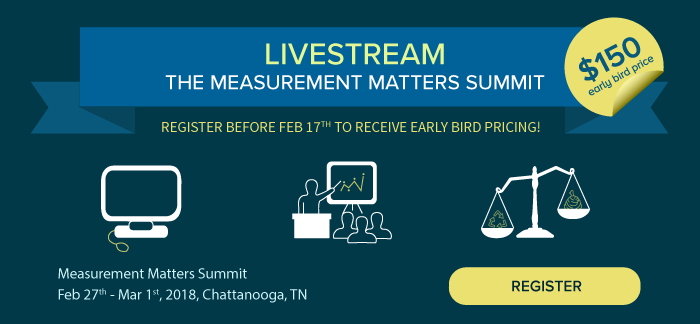 ---