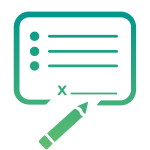 USER TERMS OF SERVICE FOR SIGHTLINE™
Effective: June 1, 2022
---
These User Terms of Service (the "User Terms") govern your access to use and test our proprietary Re-TRAC Sightline™ service (the "Service") between June 1/22 – October 17/22 (the "Testing Period") and to report to us on the performance of the Service.
By using the Service, you (herein referenced as "you" and "your") agree to comply with and be bound by these User Terms.
The terms "Emerge Knowledge," "we", "our," and "us" refer to Emerge Knowledge Design Inc., the owner of this website and the provider of the Service.
These User Terms are a legally binding agreement between you and us. You may not accept the User Terms, and may not use the Service, if you are not of legal age to form a binding legal agreement with Emerge Knowledge.
Responsibility, Use, and Consent
During the Testing Period, you are granted a limited-term, non-sublicensable, non-exclusive license to use and test the Service. You agree to use the Service limited for your own use and only in the ordinary course of testing.
You understand that the data made available to you via the Service is proprietary information and represents a significant business asset from which we, and the data providers (licensors) with whom we work, derive our products and services. You agree to use and share the data only under the following conditions:
You may share graphs, charts, tables, and other summary data reports provided that you do not remove any copyright references affixed to the Service.
Upon publicly presenting any of the data accessed in the Service such as in (but not limited to) a report, article, or presentation, you cite the data provider(s) identified in the Service (each data provider is the data creator), and you cite Re-TRAC™ in your in-text citation and your reference list as applicable.
Reference list example, whereby Waste Business Journal is cited in the Service as the data provider:
Waste Business Journal (2022). [Here you shall provide a brief description of the data in square brackets.] [Data set] (https://www.re-trac.com)
You may share your own insights or summarizations provided that if you are referencing or incorporating data accessed and used in the Service that you properly cite the data set and/or the Service as applicable.
You understand that we have used our best efforts in providing the Service; however, any use or reliance on any content obtained by you through the Service is at your own risk. You have sole responsibility for how you use any of the content, including data, made available in the Service.
We reserve all rights not expressly granted to you in these User Terms.
Fees
You and we, as the "parties", agree that no fees will be payable during the Testing Period in exchange for the access granted. You acknowledge and agree that this no fee arrangement is made in consideration of the mutual covenants set forth in these User Terms including, without limitation, the disclaimers, exclusions and limitations of liability set forth herein.
Key Ground Rules
For a safe and productive work environment, all Users must comply with our acceptable use policy (the "Acceptable Use Policy"), which sets out a list of acceptable and unacceptable conduct for utilizing our Service as follows:
You agree to:
Comply with these User Terms;
Comply with all applicable laws and governmental regulations, including, but not limited to, all intellectual property, data, privacy, anti-spam, tax, and export control laws, and regulations promulgated by any government agencies;
Keep passwords and all other login information confidential, and use all reasonable efforts to prevent unauthorized access to or use of the Service;
Promptly notify us if you become aware of or reasonably suspect any illegal or unauthorized activity or a security breach involving your account, including any loss, theft, or unauthorized disclosure or use of your Login Credentials.
Only access the Service from a location in Canada or the United States.
 You agree that you will not:
Permit any third party to access or use your Login Credentials for the Service;
Use the Service to store or transmit any data or other content that may infringe upon or misappropriate someone else's trademark, copyright, trade secret or other intellectual property right, or that may be tortious or unlawful;
Post or send spam, unsolicited communications, promotions or advertisements, or use contact or other user information obtained from the Service (including email addresses) to contact users outside of the Service without their express permission or authority or to create or distribute mailing lists or other collections of contact or user profile information for use outside of the Service;
Upload to, or transmit from, the Service any data, file, software, or link that contains or redirects to a virus, Trojan horse, worm, or other harmful component or a technology that unlawfully accesses or downloads content or information stored within the Service or on the hardware of Emerge Knowledge or a third party;
Attempt to reverse engineer, decompile, hack, disable, interfere with, disassemble, modify, copy, translate, or disrupt the features, functionality, integrity, or performance of the Service (including any mechanism used to restrict or control the functionality of the Services), any third party use of the Services, or any third party data or other content contained therein;
Attempt to gain unauthorized access to the Service or related systems or networks or to defeat, avoid, bypass, remove, deactivate, or otherwise circumvent protection or monitoring mechanisms of the Service;
Access the Service in order to build a similar or competitive product or service or copy any ideas, features, functions, or graphics of the Service;
Rent, loan, resell, time share or similarly exploit the Services; or
Authorize, permit, enable, induce or encourage any third party to do any of the above.
The Re-TRAC Connect Team
We may leverage our directors, officers, and employees (collectively, the "Re-TRAC Connect Team") in exercising our rights and performing our obligations under the User Terms.
Proprietary Rights
We own and will continue to own the Service and we own and will continue to own (or are and will continue to be an authorized licensee) all software that we utilize to provide the Service, together with all modifications, enhancements, and updates to the Service and/or to such software, as well as all related documentation, and any and all copyrights, patent rights, trademarks (whether registered or unregistered), trade secrets, or other intellectual property rights of any nature or kind whatsoever therein or thereto that are not owned by a third party licensor of any such software, documentation, dataset, or intellectual property right (collectively, "Our Intellectual Property"). Without limiting the generality of the foregoing, the content, organization, graphics, design, compilation, digital conversion and other matters related to the Services, to such software and/or to such documentation are protected under applicable copyrights, trademarks, and other intellectual property rights, which are owned by us or any such third party licensor. The copying, redistribution, use, or publication by you of any such matters, except as expressly allowed by these User Terms, is strictly prohibited. Any and all of our rights not expressly granted pursuant to these User Terms are hereby retained by Emerge Knowledge.
Trademarks and servicemarks that appear on this website and/or in the Service that are not owned by Emerge Knowledge are the property of their respective owners.
Third Party Linked Content
Links to third party websites found in the Service are provided merely as a convenience and do not imply endorsement of the linked or referenced sites or their content. We are not responsible for the accuracy, reliability or currency of the information or service provided via any linked site or by any external source. Your use of any linked site shall be at your own risk and shall be subject to the terms and conditions established by and applicable to each such site.
No Representations, Warranties, or Conditions
YOU EXPRESSLY ACKNOWLEDGE AND AGREE THAT THE SERVICE AND ALL RELATED INFRASTRUCTURE AND INFORMATION ARE PROVIDED ON AN "AS IS" AND "AS AVAILABLE" BASIS WITHOUT ANY REPRESENTATIONS, WARRANTIES OR CONDITIONS OF ANY KIND, AND THAT WE AND OUR LICENSORS EXPRESSLY DISCLAIM ANY AND ALL REPRESENTATIONS, WARRANTIES AND CONDITIONS, WHETHER EXPRESS OR IMPLIED, STATUTORY OR OTHERWISE, INCLUDING WITHOUT LIMITATION TITLE, NON-INFRINGEMENT AND THE IMPLIED WARRANTIES OR CONDITIONS OF MERCHANTABILITY, MECHANTABLE QUALITY AND FITNESS FOR A PARTICULAR PURPOSE. IN PARTICULAR, YOU FURTHER EXPRESSLY ACKNOWLEDGE AND AGREE THAT WE DO NOT REPRESENT OR WARRANT THAT THE FUNCTIONALITY CONTAINED IN ANY SERVICE WILL SATISFY ALL OF YOUR REQUIREMENTS, THAT THE QUALITY OF THE SERVICE WILL MEET YOUR EXPECTATIONS, OR THAT THE SERVICE WILL BE UNINTERRUPTED, TIMELY, SECURE, OR ERROR-FREE.
Limitation of Liability
YOU ASSUME FULL RESPONSIBILITY FOR YOUR USE OF THE SERVICE AND THE CONSEQUENCES THEREOF REGARDLESS OF CIRCUMSTANCES AND REGARDLESS OF THE FORM OF ACTION (WHETHER IN CONTRACT UNDER AN AGREEMENT OR THESE USER TERMS OR IN TORT (INCLUDING NEGLIGENCE) OR UNDER ANY OTHER THEORY OF LIABILITY), IN NO EVENT SHALL EMERGE KNOWLEDGE OR ANY MEMBER OF THE RE-TRAC CONNECT TEAM OR ANY OF OUR LICENSORS BE LIABLE FOR PERSONAL INJURY, OR FOR ANY  SPECIAL, DIRECT, INDIRECT, INCIDENTAL, CONSEQUENTIAL, PUNITIVE, EXEMPLARY OR AGGRAVATED LOSSES OR DAMAGES OF ANY NATURE OR KIND WHATSOEVER, HOWEVER CAUSED, ARISING OUT OF OR RELATED TO YOUR USE OF, DELAY IN USING OR INABILITY TO USE THE SERVICEAND/OR ANY LINKED WEBSITE AND/OR PRODUCTS AND/OR SERVICES, OR FOR ANY CLAIM OR DEMAND AGAINST BY ANY THIRD PARTY, EVEN IF EMERGE KNOWLEDGE AND/OR ANY MEMBER OF THE RE-TRAC CONNECT TEAM AND/OR ANY OF OUR LICENSORS MAY HAVE BEEN ADVISED OF THE POSSIBILITY OF SUCH LOSSES OR DAMAGES OR IF SUCH LOSSES OR DAMAGES WERE REASONABLY FORESEEABLE.
THE FOREGOING LIMITATIONS OF LIABILITY ARE FUNDAMENTAL ELEMENTS OF THE BASIS OF THE AGREEMENT BETWEEN US AND YOU AS A USER. IN PARTICULAR, THESE LIMITATIONS ALLOCATE THE RISKS UNDER THE USER TERMS BETWEEN US AND YOU.
General Provisions
Notifications, Administrative Messages, and Notices
Critical notifications and administrative messages from Emerge Knowledge may be sent to you and you agree that these communications are considered part of the Service, which you may not be able to opt-out from receiving.
All notices to you under the User Terms will be via the Service, although notice to you may also be sent via email to the work email address associated with your Login Credentials. All notices from you to Emerge Knowledge will be sent to legal@emergeknowledge.com. Notices will be deemed to have been duly given (a) the day after it is sent, in the case of notices sent through email (so long as that 'day after' is a business day of the party receiving that notice), so long as the party sending the notice does not receive a response that the message was not received by the intended party; and (b) the same day, in the case of notices sent through the Services.
Feedback
You may provide us with suggestions, comments or other feedback regarding any existing Service or any future service plan, including but not limited to errors or difficulties discovered and/or improved or additional functionality or features ("Feedback"). You agree that any Feedback shall be voluntarily given, that any and all Feedback will immediately and automatically become our property, and that we shall be entitled to incorporate any Feedback into any Service without any compensation or other liability or obligation of any nature or kind whatsoever to you or to any organization for whom you are a User. You agree that we may review your use of the Service (such as how you navigate the Service) to understand your Feedback.
Waiver
No failure or delay by either you or us in exercising any right under the User Terms, including the Privacy Policy, will constitute a waiver of that right. No waiver under the User Terms will be effective unless made in writing and signed by you and an Officer of Emerge Knowledge.
Interpretation
The headings contained in these User Terms are for convenience of reference only and shall not affect the interpretation of these User Terms. The User Terms shall be read with all changes in gender and number required by the context. The language in the User Terms shall be interpreted as to its fair meaning and not strictly for or against any party.
Severability
The User Terms, including the Privacy Policy, will be enforced to the fullest extent permitted under applicable law. If any provision of the User Terms is held by a court of competent jurisdiction to be invalid or unenforceable, that provision will be severed from the rest of the User Terms and the remaining provisions of the User Terms shall remain in full force and effect.
Assignment
You may not assign any of your rights or delegate any of your obligations under these User Terms, including the Privacy Policy, whether by operation of law or otherwise, without the prior written consent of us (not to be unreasonably withheld). We may assign these User Terms in their entirety (including all terms and conditions incorporated herein by reference), without your consent, to a corporate affiliate or in connection with a merger, acquisition, corporate reorganization, or sale of all or substantially all of our assets. Subject to the foregoing, the User Terms will bind and enure to the benefit of you and us, together with our respective heirs, executors, administrators, legal representatives, successors and permitted assigns.
Governing Law
The User Terms (including the Privacy Policy), and any disputes arising out of or related to the User Terms, will be governed exclusively by the laws of the Province of Manitoba, Canada as well as the federal laws of Canada applicable therein. The courts of the Province of Manitoba will have exclusive jurisdiction to adjudicate any dispute arising out of or relating to the User Terms or their formation, interpretation or enforcement. We and you hereby consent and submit to the exclusive jurisdiction of such courts. Notwithstanding the foregoing, any injunctive or other equitable relief can be sought by you or us in any court of competent jurisdiction. The United Nations Convention on Agreements for the International Sale of Goods does not apply to these User Terms in any manner whatsoever.
Entire Agreement
The User Terms, including the Privacy Policy, constitute the entire agreement between you and us for this Service during the Testing Period and supersede all prior and contemporaneous agreements, proposals or representations, written or oral, concerning its subject matter. In the event and to the extent of any conflict or inconsistency between the provisions in these User Terms and any other pages referenced in these User Terms, the terms of these User Terms will first prevail.
Language
We and you acknowledge and agree that it is required that all of the documents that form part of the User Terms be prepared in the English language.
User Account
The User Terms remain effective and are binding on you until your Agreement with us expires or terminates, or your account as a User is otherwise terminated by you or by us, whichever occurs earlier. Please contact Emerge Knowledge if you at any time or for any reason wish to terminate your User account. Your notice should be sent, in writing, to legal@emergeknowledge.com, or by post to our address at the end of these User Terms. For greater certainty, Emerge Knowledge may at any time immediately terminate your account if: a) you violate the User Terms; b) we are required to by law; or c) we have decided, in our sole discretion, to cease offering the Service that you were using.
Contacting Emerge Knowledge
Please contact us if you have any questions about these User Terms of Service. You may contact us at legal@emergeknowledge.com or at our mailing address below:
Emerge Knowledge Design Inc.
401 – 250 McDermot Avenue
Winnipeg, Manitoba R3B 0S5
Canada